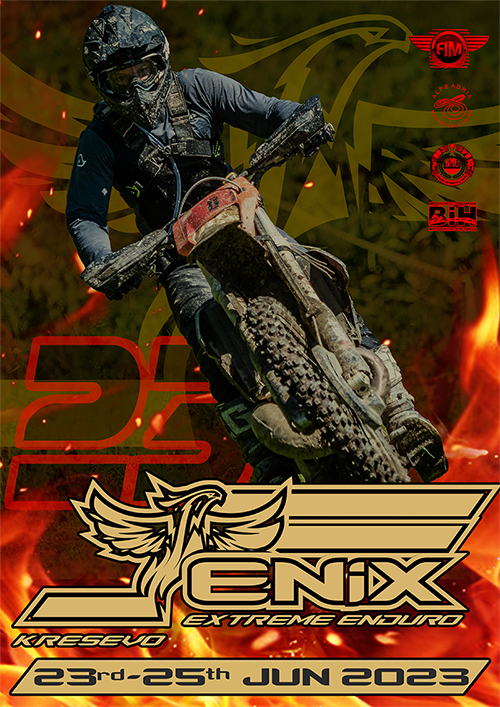 As a symbol of immortality and rebirth, Fenix (the local word for the bird phoenix) in this case symbolizes the people of Kresevo, and in a broader sense, the people all over Bosnia and Herzegovina, that through the history of suffering, pain, blood, tears, sweat, wars ... have lived hard and died hard but were always born again from the ashes.
On the other hand, ''Fenix'' in its name contains ''EN'' which represents the Enduro and ''X'' as the prefix and the acronym for Extreme. That is idea and imagination behind the Extreme Enduro race in Kresevo being called F-EN-and-X or '' Fenix ''.
Enduro, as organized gathering and racing of Enduro riders and motorcycles, was first started and mentioned in Bosnia and Herzegovina in 2002, in Kresevo. Then, along with the 4x4 cross race and Motocross, the first promotional Enduro race was organized. The very next year in Kresevo, an international invitation Enduro race was held at which riders from Bosnia and Herzegovina competed at an international level.
2004 was the first time Enduro Championship of Bosnia and Herzegovina was held. In this sport, then were included clubs from Vitez and Uskoplje, and in the coming years many other teams and riders from across the country joined.
Through all these years in Kresevo there were organized Classic Enduro races, which were occasionally bringing winning points, aside for the Championship of Bosnia and Herzegovina, for Alpe-Adria Championship, East-European Championship and Croatian and Slovenian Championship.
For the first time this year, AMC ''Kreševo'' is the organizer of one Extreme Enduro race.
It will count for the next races in the season 2020:
Championship Alpe-Adria
European BMU Championship
Championship of Bosnia and Herzegovina